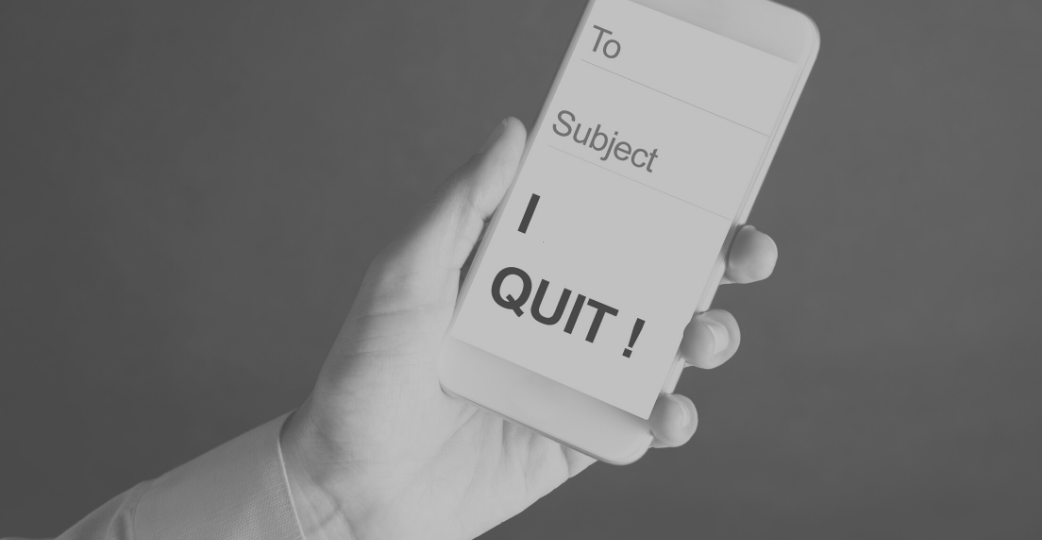 We are witnessing "The Great Resignation" worldwide in every industry, primarily due to the COVID-19 pandemic. However, we need to dive deeper into why so many people are leaving their jobs. It's been a testing time for so many of us, but remember, with all struggles come positives
Here we will discuss:
What is the problem?
Understanding the employee situations
What can we do?
Although many may see this as a negative situation, it is turning into something positive for the future of the workforce and new talent. This "great resignation" provides a fantastic opportunity for companies to re-evaluate what they need in their employees and how they treat them.
A psychological reaction causes everyone to stop and re-evaluate their lives and the value that their work adds to their lives. We have seen a more noticeable shift in individuals realising that maybe they have a purposeless job that does not fulfil them. They do not feel appreciated, which doesn't allow them to experience life outside of their work.
The problem that CEOs and senior leaders are having is that employees are leaving at such a high rate. Microsoft carried out an analysis that found that 41% of the global workforce measures themselves as 'likely to leave their current employer within the next year (3)'.
Of course, we can think that there are many potential employees in the market, but we need to understand that top talent is top talent and that onboarding is expensive and time-consuming. The great resignation has manifested itself as an opportunity to connect the gap between companies and employees, which means that companies must evaluate what is happening at all levels in the business.
Throughout this period, senior executives will be challenged to question and develop how they lead, requiring a more considerable demand for coaching, mentoring, leadership development, and creating strong bonds in teams.
The latest research characterises how essential things are getting:
Four million US workers resigned from their jobs in April 2021: a 20-year record.
A McKinsey study discovered that 40% of employees are 'somewhat' likely to quit in the subsequent three-six months and 18% were 'likely' and 'almost certain' to – this is consistent across five different countries and every industry.
The UK job board Totaljobs has seen a 40% rise in searches for jobs allowing remote working.
56% of Gen Z workers consider themselves as 'unhappy' with their work/life balance at their current job.
With any mass event, the power comes to the many, meaning that it is becoming an employee's market. "We have a talent shortage" is a term I often hear when coaching CEOs and senior business leaders. Hence, if you are a talented individual, you will be in a much stronger position to discuss how to move your career forward.
What's causing the great resignation?
I posted on Linkedin about how there is no one reason behind burnout; there is a list of various contributing factors. Pay, education, career progression, family commitments, working from home, and time spent working are some. But we are missing the point; we know that happier employees work harder, get more out of work, are more creative, and are better at solving complex problems. And the great resignation is no different; it is the overall effect of the workspace.
All these causes highlight to a great leader what they need to be doing. However, similar to professional sports, no one player is bigger than the team. Meaning, you are not going to change every value in the company to suit your top talent, but you will use the feedback to shape the business and move forward.
Understanding the employee situations
Some people might argue that this is the first time that the power has shifted to the employee. Leaders need to understand this shift, communicate with their workers, and work with them to create the desired workplace culture. Everyone is trying to do their best and make the right decisions about their lives, which is tough. As a leader, it becomes essential to see it from the employee's point of view, and if they can, it will mean a fantastic insight into their employee.
What can we do?
Even before COVID-19, employee engagement was a vital factor in success in business. An engaged, fulfilled member of staff is more productive, committed and creative at work. The problem is how to monitor that. I have been part of employee engagement studies. I wrote some interesting comments, and nothing really happened. If studies and work are done, the results need to be communicated clearly and actions taken.
Leaders that prioritise engagement have clear values, goals, open communication, active feedback loops and a culture of coaching and support. Your top talent needs to feel part of something, agree with those goals and be open to feedback. The best in the world embrace input and use it to improve day after day. This is where we believe coaching is so important during this time, to find out more benefits of high-performance coaching check out our resource here.
We have seen that money, perks, and gifts will keep top talent and are now adding to the problem. Build up the individual, help them develop so that they don't want to leave. I have always left environments where I felt I was not growing or adding to the environment.
Companys need connection – humans are driven by connection. Repeated lockdowns and working from home without an end date has been astonishingly isolating, and staff are missing out on the human connection and what that brings. Junior staff feel that they are missing out on networking opportunities and career development. Some people are pushing back about returning to the office, and I don't think that 100% office time will return.
That said, humans need connection; we need to see each other, laugh, brainstorm and be part of something. Senior leaders have a fantastic opportunity to shape the office and working environments forever. Developing empathy and understanding will allow those leaders to navigate the challenges in front of them and ultimately build the high-performance centres of the future.
Good luck on your journey.
Lee
References
https://www.mckinsey.com/business-functions/organization/our-insights/great-attrition-or-great-attraction-the-choice-is-yours?cid=other-eml-dre-mip-mck&hlkid=31491be1970d48cda4ea80303daf97d4&hctky=11645647&hdpid=436a4306-6dff-443b-8c5f-1137c0991b42
https://www.forbes.com/sites/bryanrobinson/2021/06/11/the-great-resignation-migration-and-what-this-means-for-your-career/?sh=31a8bb7369aa
https://www.npr.org/2021/06/24/1007914455/as-the-pandemic-recedes-millions-of-workers-are-saying-i-quit
https://www.forbes.com/sites/johnbremen/2021/07/28/transforming-the-great-resignation-into-the-great-hire/?sh=c310b6059c09
https://www.forbes.com/sites/hollycorbett/2021/07/28/the-great-resignation-why-employees-dont-want-to-go-back-to-the-office/?sh=482604982000
https://www.henricksconsulting.com/2011/09/triggers-of-turnover/